Introducing Cobase Payment Hub - the ultimate solution for managing your cash. Our platform offers automated payments, seamless bank integration, and compatibility with any ERP or other systems you need to connect. Stay ahead with real-time cash reporting, accurate financial forecasting, and more. Whether as a payment hub or comprehensive Cash Management System, the possibilities are endless. Discover the potential of our customizable financial dashboards. Effortlessly handle payments across multiple banks on one platform. Enjoy a user-friendly interface and tailored workflows. Easily upgrade to our Treasury Management System for the next level.
In the fast-paced digital age, modern enterprises—particularly those with a broad network of affiliates—are constantly juggling multiple bank relationships, numerous bank accounts, and often, various ERP systems. Toss in the complexities of managing multiple currencies, and it's evident that efficient corporate cash management can be a labyrinthine task. An even more daunting challenge? The reality that many ERP platforms don't seamlessly integrate with bank portals. Such a disconnect can compromise payment accuracy, amplify risks, and raise compliance concerns.

Finance professionals often find themselves bouncing between platforms, orchestrating payments, overseeing cash flows, managing foreign currency exchanges, and securing authorizations. It's a demanding routine that lacks both efficiency and a clear, comprehensive overview—critical for strategic decision-making.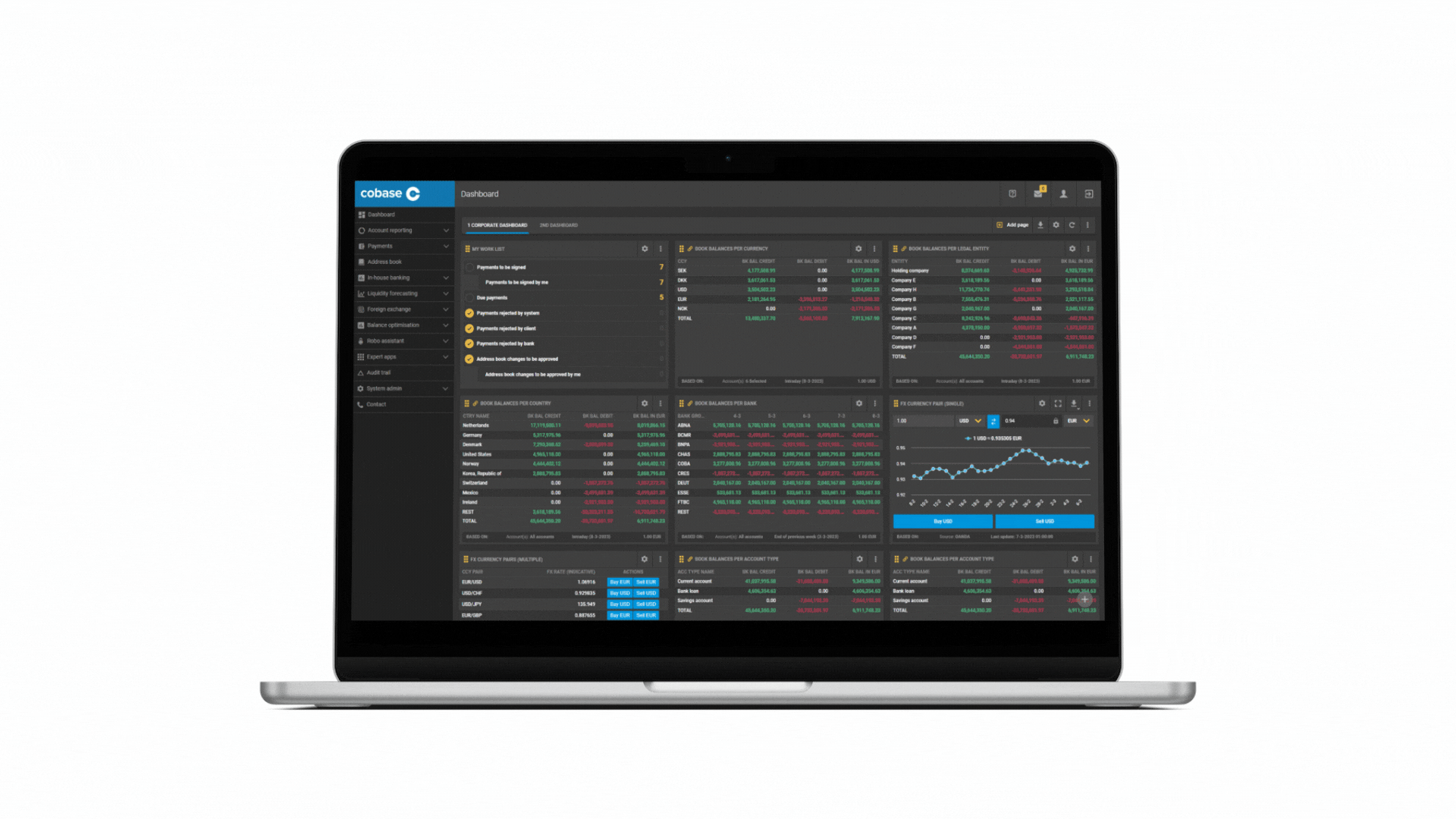 Picture a unified financial ecosystem where your ERP system—the linchpin of your financial operations—intuitively aligns with every bank portal you're connected to. This is where Cobase comes into play, pioneering transformative solutions in the integrated cash management arena.

Our standout Payment Hub caters to the multifaceted needs of the modern enterprise. From facilitating uninterrupted payment automation and granting real-time cash visibility to forging solid bridges between multi-bank systems and top-tier ERPs such as SAP, Oracle, and Microsoft Dynamics, Cobase stands as a paragon of integration and efficiency.

Step into the future with Cobase. Join a growing cadre of forward-thinking corporations who are amplifying efficiency, bolstering security, and ensuring steadfast compliance. In the intricate world of corporate finance management, Cobase isn't just a tool—it's a transformative ally.
5 Key Reasons Cobase Payment Hub Elevates Your Financial Management
Why Cobase Payment Hub is the Ultimate Solution for Your Financial Management
1. User-Centric Design & Mobile Access
Cobase combines an incredibly user-friendly interface with a mobile app, making financial management smooth, whether you're at your desk or on the move.


2. Uncompared Security & Multi-Bank Connectivity
With end-to-end encryption and secure connections to all your banks, Cobase stands as a fortress safeguarding your financial data and transactions.


3. Seamless Integration with ERPs
Cobase seamlessly syncs with top-tier accounting and ERP systems, including industry leaders like SAP, Microsoft Dynamics, and Oracle. Coupled with its prowess in automating intricate processes, Cobase guarantees precision and efficiency in every financial endeavor.


4. Insightful Reporting & Transparent Oversight
Dive into Cobase's comprehensive analytics for deep financial insights. This paired with a transparent audit trail means every decision is well-informed, and every financial move is traceable.


5. Exceptional Support & Accountability
Cobase isn't just a platform; it's a partnership. With a dedicated support team on standby and features that ensure transparency, you're always empowered and never alone in your financial journey.