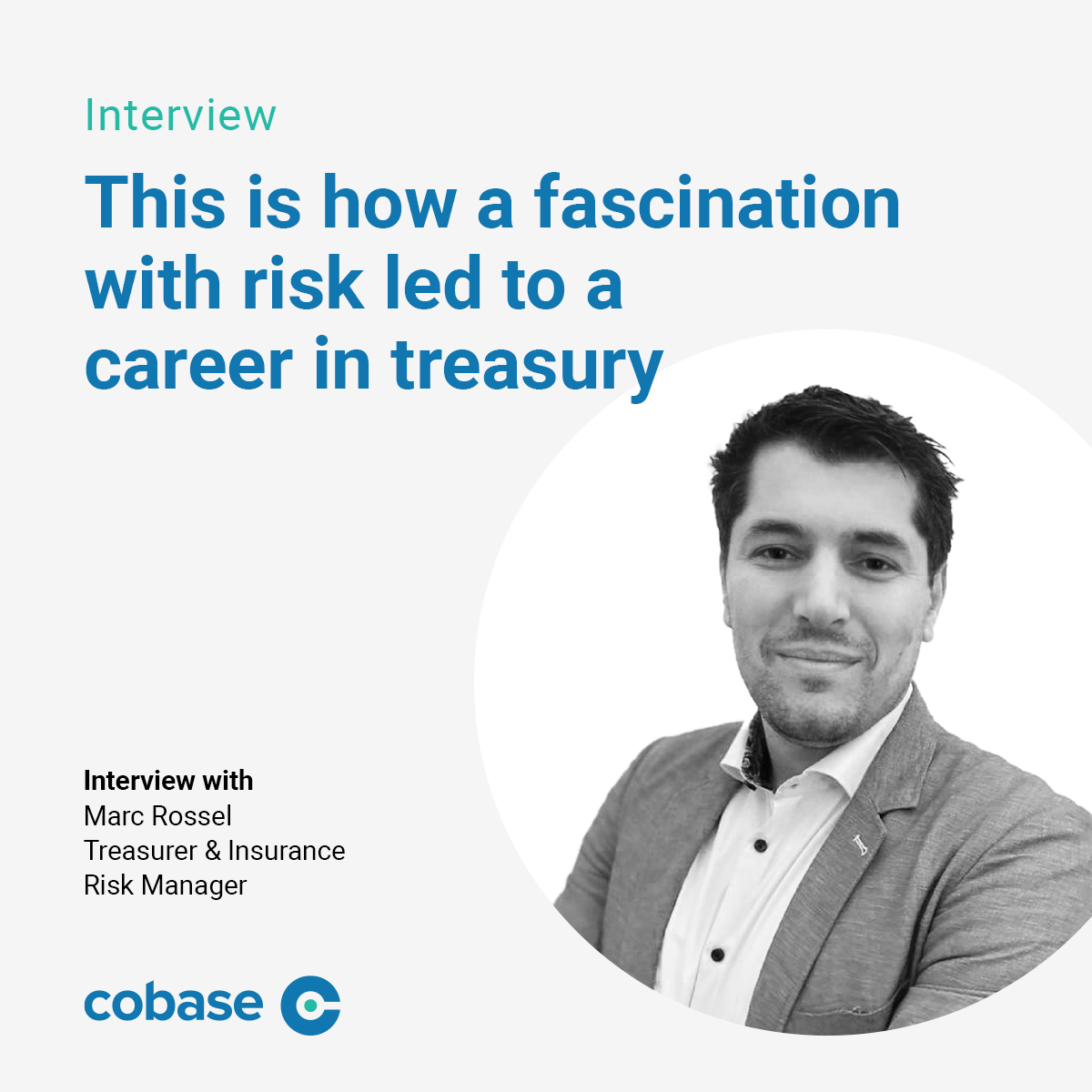 This is how a fascination with risk led to a career in treasury
Feb 16, 2023 3:26:02 PM
As many in the field have long known, it is not just people with a finance background who make the best treasurers. It is about having the right skills and the right drive to succeed in this challenging but rewarding career. For Treasurer & Insurance Risk Manager Marc Rossel, it was his fascination with risks that led him to his current position. He is happy to share his story and views on the interesting paths that can lead to a career in treasury.
The traditional route
"Traditionally, people with a strong financial background have been recruited for treasury positions. For example, people who worked for years in accountancy and then moved into treasury. Although this is definitely not the case in my own team, it is still how the profile of treasurers is perceived," says Rossel. But his own career path doesn't fit that traditional view, and Rossel says it is also not the only way to meet the needs of today's treasury departments.

One of the things that companies often forget is that treasury also has a lot to do with the actual work and processes within the organisation. So people with experience and knowledge of that can be a good, sometimes even better, fit for the treasury role. He should know because that is how he became a treasurer.
How it all began
Rossel's career did not begin with a background in finance nor with an ambition to become a treasurer. "I started my career as a safety, health and environment officer at Aviko. This is one of the four largest potato processing companies in the world. Not coincidentally, it is also part of Cosun, where I currently work".

It was through his work as an SHE officer that he became fascinated with risk. Since then, he has undertaken several studies in his spare time. Although he studied Business Economics and also obtained his Master's in Business Administration (MBA), he did it all from a risk management perspective. But there was an interesting 'side effect' that occurred along the way: "I got to know more and more about finance and treasury.

Rossel became involved in issues such as the financing of major projects and reporting. "These things are about risk management as well. Not just safety issues but also, for example, the insurability of large installations. One day, my current manager approached me and asked me to join the treasury team because he thought it would really suit me. I applied and got the job. When I started years ago, I never thought it would lead me here. But it is such a good fit, and my fascination with risk management is still part of my work.
The importance of being able to make decisions
Minimising risk for a large organisation doesn't mean that companies can have a solid long-term operational plan that they don't have to deviate from. "Although treasurers do as much research as possible, we still cannot predict the exact future. Treasurers need to be aware that we never know exactly what is going to happen, but they still need to make informed decisions. If you take energy prices for example, we didn't know or expect them to rise as much as they have, and we certainly don't know where they will be in a year's time. But if we take into account as much data and current facts as possible, we can make a decision.

The ability to make decisions even when you don't have all the information is what makes a great treasurer, according to Rossel. It is one of the most important skills to consider when recruiting new talent.
Know your people
Rossel has worked and studied hard to get to this point in his career. But he says it was not just because of his own love of reading and learning. There is one key factor that organisations sometimes underestimate: over the years, his managers really got to know him. They were interested in who he was, in his talents and, most importantly, in helping him grow in his career.
"Growth is often based on trial and error. Of course I know my own strengths and weaknesses. But it is often very difficult to define a career path that matches them. You need help with that. Not just from HR, but especially from the people who work with you and know the organisation and the career opportunities. I've had a manager who really gave me space to make my own mistakes and helped me figure out how to get it right.
According to Rossel, knowing your people and having managers who are able to spot talent is absolutely essential if you want to train someone from your own organisation for a job in treasury. "And once you've found your talent, don't forget to help them along the way and give them enough space to learn."
More in-depth insights into Treasury career development?
Would you like to know everything about the career developments for treasurers? We have interviewed more experts in the field next to talented Treasury professionals. You can read all about their opinions and insights into the current market and the future of Treasury in the report 'Hidden Gems, The Subtle Art of Finding Your Next Treasurer."