Treasury Management System (TMS)
Cobase's Treasury Management System is a game-changer for corporates seeking a streamlined financial solution. At its core, Cobase stands out with a robust payment hub, ensuring unparalleled bank connectivity for seamless transactions. But it's more than just a payment platform. With its modular design, companies can effortlessly extend their capabilities, transitioning into a comprehensive Cash and Treasury Management powerhouse. This flexibility makes Cobase an essential tool for modern corporates aiming for efficiency, connectivity, and financial optimization. We blend cutting-edge technology with intuitive design to give you a superior financial management experience.
You're on the clock. The board awaits an update, and as the CFO or Treasurer, it's showtime. Your company's FX exposure? That needs decisive action. The intricacies of forecasting, managing, and optimizing liquidity? They can't wait. In-house banking, intracompany lending, and securing transactions in a timely fashion with data scattered across various banks and ERPs? It's a maze that demands a master navigator.
Isn't there a more seamless route through this financial labyrinth.
Built on the robust foundation of the Payment Hub, our Treasury Management System (TMS) is your map and compass. It's an all-in-one dashboard granting a panoramic view of your enterprise's financial position - present and future, local and global. Swift, informed decisions become second nature.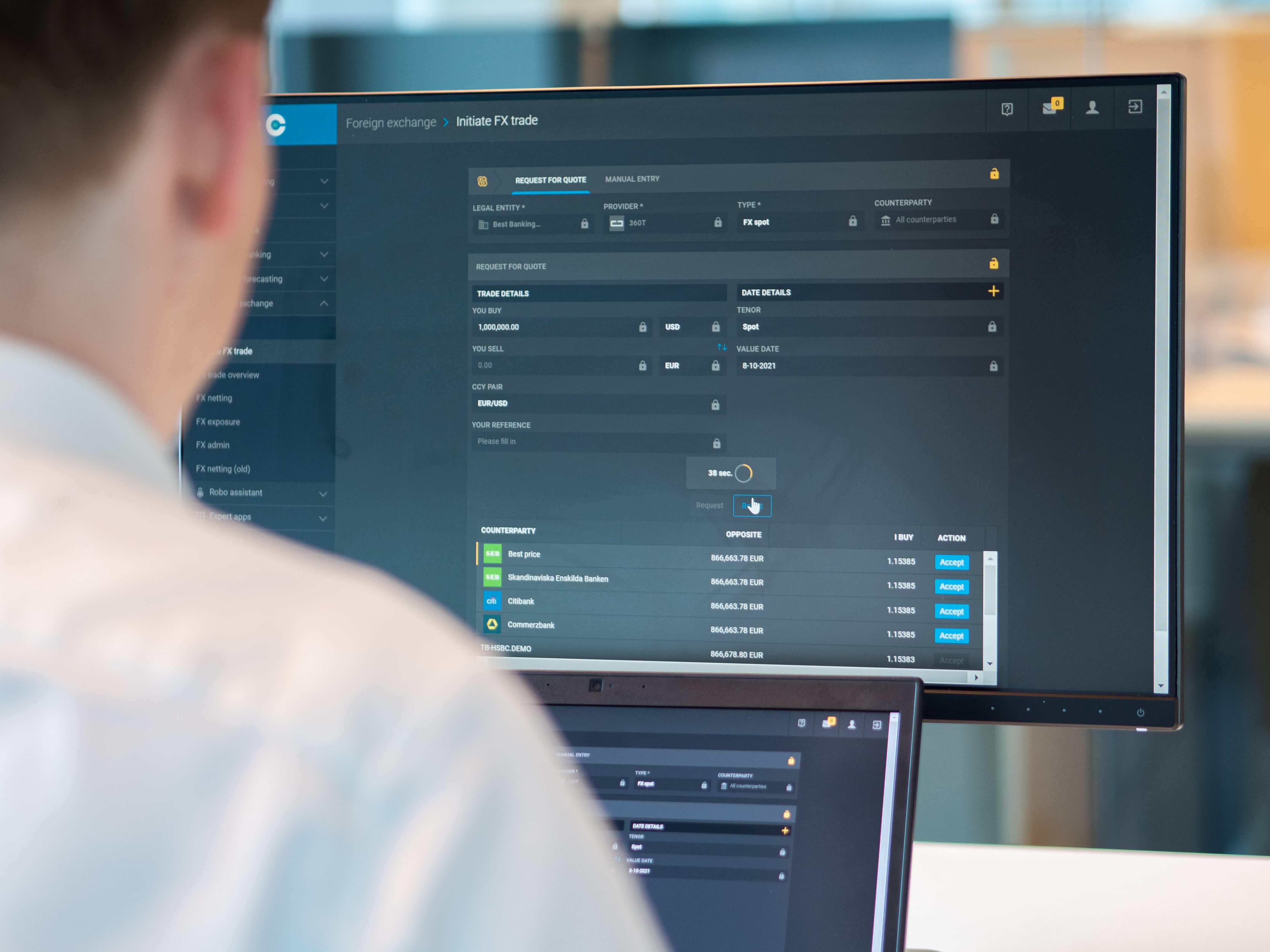 In today's fast-paced business landscape, where payments, receivables, cash flows, and authorizations are spread across multiple banks, ERPs, and operating units, it is crucial to have cutting-edge treasury and cash management capabilities. You don't just want control, you crave clarity when it comes to FX exposure, cash optimization, payments, and much more. Trying to handle all of these on separate platforms is not only tiresome, but it's also like navigating a field full of risks.

Cobase offers seamless connectivity to multiple banks and treasury modules through its Treasury Management System (TMS). Experience the convenience of executing payments, managing receivables, monitoring cash flow, forecasting and managing finances, overseeing foreign currency transactions, and authorizations, all in a highly customizable user interface. With Cobase, there's no longer a need to navigate through different bank portals or go through multiple manual processes. Our robust and secure dashboard ensures efficient payments and complete control over liquidity.
Our advanced treasury modules streamline cash and liquidity forecasting, ensuring you're always ahead of the game in the financial world.
From processing payments to managing receivables, every aspect of foreign currency management becomes effortless. Cobase's intuitive and user-friendly interface brings everything together, eliminating the hassle of navigating multiple bank portals.
Immerse yourself in the future of in-house banking and global cash pooling. With Cobase, effortlessly fund and consolidate accounts with any bank worldwide. Our cutting-edge dashboard guarantees not only efficient transactions but also top-tier security.
For businesses seeking efficiency and security in global finance, Cobase is the ultimate solution. Navigate, consolidate, and conquer your financial challenges today.